Penis traction is an effective method of increasing length and girth in the penis without the risks of surgery. Male Edge utilises this medical concept to provide effective results. Pressure is placed on the penis which causes the cells in the penis to break down. This division of cells which eventually results in more tissue is called cytokinesis. The new tissue formed during this process is the source of the increases in penis length and girth.
The Male Edge device supplies a constant tension to the Corpora Cavernosa. This is the tissue in the penis which holds blood when you have an erection. Gradually over time this tissue is stretched and enlarged by the process of cytokinesis. By having a larger Corpora Cavernosa you will be able to hold more blood resulting in a significant improvement in erection quality.
A great reason to use our enlarger is that penis traction is a method which works for every man. The size or shape of a man's penis does not affect whether Male Edge will work for him. Both circumcised and uncircumcised men can use the device effectively. As long as men follow the program they will see significant gains in length and girth. The innovative design of the device makes it comfortable to wear throughout the day for faster results. Men who want to add length or girth often believe surgery is their only option, but penis traction offers a safe alternative that can be used by any man. Scientific studies by the British Journal of Urology support claims men can add inches to the length of their penis with regular use of our extenders.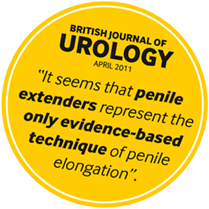 Penis enlargement is a subject which has been on the minds of men for centuries. Studies have shown almost 80% of men are unhappy with the size of their penis. In today's modern era with technological advancements in medicine doctors have finally developed a product which can safely enlarge your penis in the comfort of one's home. Why not see what a Male Edge device can do for you today?